Manchebo
Book Direct Benefits
Best Rate Guarantee
Daily Complimentary Yoga Classes
Complimentary Welcome Drink
Free WiFi
April Fun And Royal Festivities
April 01, 2016

After a good round of April jokes and pranks, Aruba is ready for yet another grand celebration. Since the abdication of Dutch Queen Beatrix in 2013, The Kingdom of The Netherlands, which includes the constituent countries (Aruba, Curaçao, Sint Maarten, The Netherlands) and the special municipalities within The Netherlands (Bonaire, Saba, Sint Eustatius), have a new successor and a revamped holiday.
Queen Beatrix in Aruba (photo courtesy of DeOranjes.nl)

"Queen's Day", which has been celebrated on the 30th of April (Queen Juliana's birthday) since the accession of Queen Beatrix's mother in 1948, is now officially "King's Day" and held on April 27, King Willem Alexander's birthday.
King Willem-Alexander and Queen Maxima during 200 year celebration of the Kingdom of The Netherlands in 2015 (photo courtesy of vorsten.nl)

Just like in other parts of the Dutch Kingdom, Aruba turns into a bright orange craze. Apart from the typical Dutch delicacies, souvenirs and the red-white-blue flag, grocery shoppers can party along savoring special holiday treats, like orange 'tompoes' (Vanilla Custard Slice), 'oranje bitter' (an orange colored liquor, especially consumed during Dutch festivities) and anything Dutch, basically. From 'pannekoeken' (crêpes) and 'erwtensoep' (traditional pea soup with smoked sausage) to a good bite of 'zoute haring' (salted herring) dipped in raw onions. How?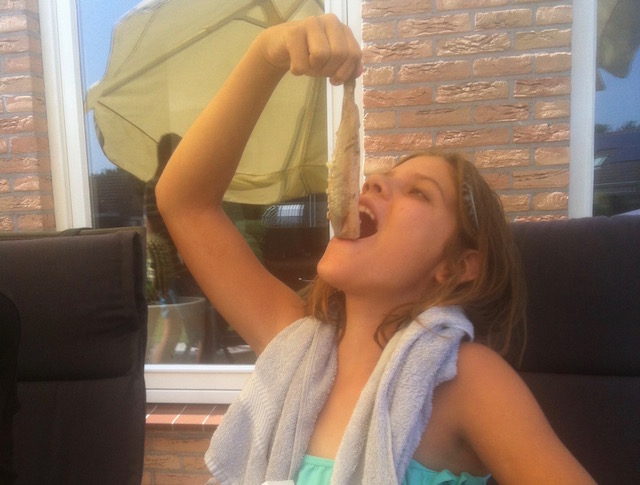 Like this!


In Aruba, "King's Day" will inherit a long tradition of kite flying. The quickest, the biggest, the strangest, the strongest… For years, young and old have been competing all over the island during this celebration that locals used to call 'Aña di La Reina' (Queen's birthday). What hasn't changed is the cheery atmosphere the 'feria's' (street fair), festivals and free markets bring along.

Are you planning a stay at the Manchebo Beach Resort and Spa? Maybe you're already on the island and looking for a place to super-charge your Dutch Caribbean mood. Get a pre-party body massage at Spa Del Solto loosen up the tension. Ladies might want to dazzle up the nails with 'Oranje Boven' (Orange Above All) colors, after a deep cleansing European Facial.

Check out Pega Pega Beach Bar's daily specials for some inspiration. They might just add (personal recommendation) a generous portion of Dutch 'bitterballs' with Dijon mustard on the menu to match your chilly cold Heineken beer.
Hoorah, hoorah, hoorah!

If there's anything our dushi island of Aruba can be proud of, it's our diversity. All this color, all these traditions, different cultures celebrating together. What's not to embrace about a community living in harmony, despite our differences.

Felis Aña di Rey! = Happy King's Birthday!

Share