Sighting in Aruba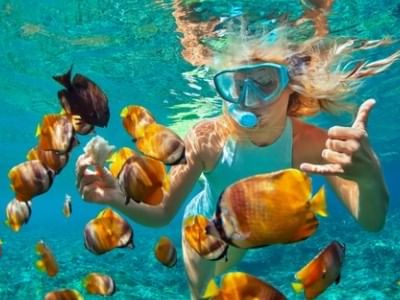 The Natural Pool
On a deserted piece of shoreline in Arikok National Park, a naturally occurring depression of water sits surrounded by volcanic rock. The natural pool, also known as "conchi" or "Cura di Tortuga" is breathtaking. This natural phenomenon can only be reached on foot, by horseback, or in an offroading vehicle.
Scuba & Snorkeling
White-sand beaches, turquoise waters, and a thriving underwater ecosystem make scuba diving and snorkeling in Aruba irresistible. The nearby coral reefs are waiting to be explored. Reserve a diving or snorkeling experience at Manchebo Beach Resort by calling our front desk or swinging by during your stay on the island.
The Butterfly Farm
Enjoy the bright sunshine of Aruba while a butterfly lands gently on your shoulder. Spend a day at this stunning butterfly sanctuary in Oranjestad learning about their intricate lifecycle, and pick up something special from their butterfly-centric gift shop on the way out.