Welcome to Manchebo Beach Resort & Spa
Experience the best of Aruba from our unparalleled resort
Perfectly situated on Aruba's quiet, intimate and spectacularly beautiful Eagle Beach, Manchebo Beach Resort & Spa offers a classic Aruban experience unlike any other. For over half a century, our luxury boutique hotel has been the hospitality standard for unforgettable Caribbean getaways.
A favorite of couples, honeymooners, wellness-conscious travelers and beach lovers seeking a rejuvenating stay with wonderful cuisine and myriad relaxation opportunities, Manchebo Beach offers a warm, personalized and more peaceful alternative to the larger Aruba beach resorts. As you arrive at the resort, framed by beautiful tropical gardens, swaying palms and locally-inspired thatched roof architecture, you'll feel swept away to your own private oceanfront retreat.
It is a destination cherished as much for its breathtaking setting as its thoughtful grasp of Aruba's culture. Our staff offers you a gracious welcome and treats you as family with an eye for detail ensuring that every request is met throughout your stay. Infused with Aruba's rich and enchanting heritage, Manchebo Beach Resort & Spa promises a once-in-a-lifetime holiday experience.
We are proud to be a Green Globe Platinum Certified Resort, offering a host of environment-friendly programs and initiatives that protect and preserve Aruba's vital natural resources for future generations.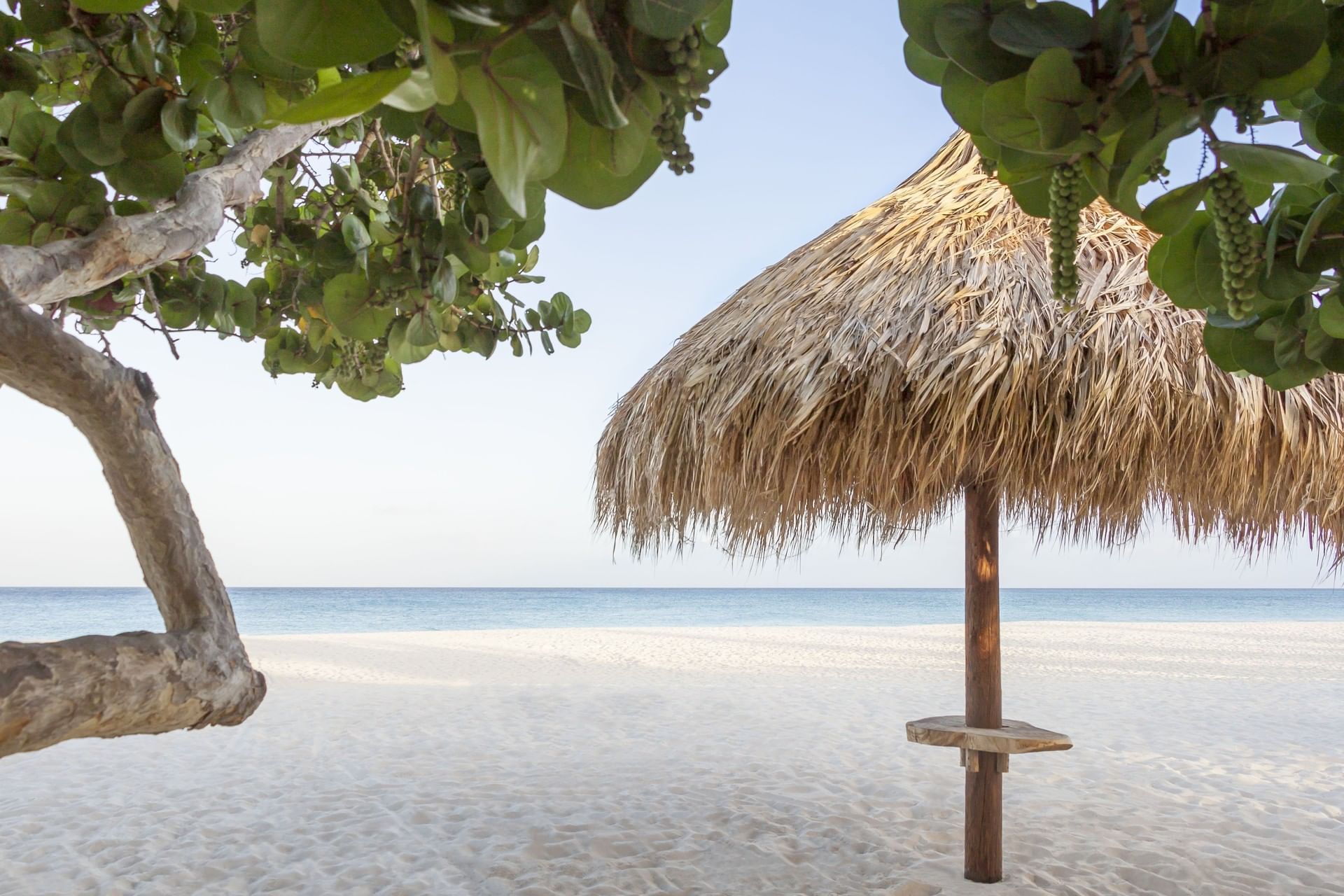 The Rooms
Whichever of our 72 rooms and suites you select, you'll find a contemporary island retreat infused with classic Aruban spirit and style. In two ocean-facing buildings no taller than the palm trees that surround them, our accommodations are relaxed and effortlessly luxurious.
The Culinary
With four restaurants for just 72 guest rooms, it's hard to imagine a resort of any size so passionately committed to cuisine. Our talented local chefs turn out dish after imaginative dish, ranging from Mediterranean classics and traditional chophouse favorites to an Omakase sushi experience and a toes-in-the-sand beach bar and grill.
The Experience
From energizing fresh fruit smoothies to therapeutic massages and body wraps to complimentary daily yoga and Pilates overlooking Eagle Beach, Manchebo takes the best parts of an spa vacation and drops them squarely on the Aruban oceanfront.
The Romance
When it comes to your wedding in Aruba, few places are as beautiful and as intimate as Eagle Beach. The warmth and intimacy of our resort, our attention to every detail and the captivating oceanfront backdrop will inspire your celebration with unforgettable moments.
Do not even hesitate to book here. 5 star... amazing beach, outstanding service and the food! If you do all inclusive, this is all made to order incredibly fresh food. All meals are terrific, chefs pleasure in watching you eat what they prepare.

If you are a Yogi... there is class every morning... each instructor thoughtful and very experienced!

Now the staff, Ana at Ike's check in is just a love! Made our beach dinner so beautiful. William our server was beyond polite and friendly. Ada for breakfast kept us smiling every morning!!!

Jason at dinner had us laughing while giving us top notch service.

Not to be forgotten are Joshua with Palapa set up and Alejandra with beach service..., spectacular.

If you are looking for a high rise hotel this is not it.... this is a genuine island feel with 5+ star service!!!

On last comment... front desk all smiles all day!

2021-02-21
amazing, clean and very spacious. The shower had a rainfall shower head which was nice. Never a worry for hot water. Our room was always cleaned nicely by the housekeeping department. The property was well kept, clean and comfortable. The food was delicious and always looked so beautifully presented. The pool was nice and the beach was even better. This place is safe. I would highly recommend Manchebo resort if you want rest and relaxation. The spa....amazing. Can't wait to return. One more thing I forgot to mention is the AMAZING staff who made our stay so perfect.

2021-02-21
Absolutely the best of the best resort on Aruba!

This is our 4th visit to Manchebo and it just keeps getting better. This year, with all the Covid issues they have gone the extra mile to make it safe. Hand sanitizers? Social distancing, etc. they still manage a very friendly atmosphere front the moment you arrive. The beach is pristine as is the service. Stephany is the premier server in the chop house and at Ike's bistro for dinner. Ana Maria, Diana and Jean for breakfast and lunch at Pega Pega. I would recommend all inclusive. It might seem expensive but you can order anything the regular menu. No buffets. The food is fantastic as well as the drinks. Right now is the best time go. Quiet beaches. Very safe and secure. Very peaceful. A great place to reset your mind and body. Their motto is Welcome Home. They live up to it!

2021-02-21