Welcome to Manchebo Beach Resort & Spa
Let Your Manchebo Experience Begin...
The Manchebo experience starts the moment you step foot into our thatched-roof, open-air lobby, where our dedicated staff is waiting with warm smiles, a refreshing welcome mojito, and a helping hand. A peek inside our boutique resort reveals beautifully tended gardens, towering palm trees rustling in Aruba's famous tradewinds, and the sugar-white sands of Eagle Beach, all melding together to create the perfect tropical backdrop as your Manchebo experience slowly unfolds.
As Aruba's leading wellness resort, we invite you to deepen your Manchebo experience by customizing your own wellness journey, choosing from daily complimentary yoga, Pilates, and qigong classes; pampering yourself at our spa sanctuary; and enjoying healthy culinary offerings. Yet at the root of these wellness experiences, Manchebo simply promises a more intimate, quiet alternative to the much busier Palm Beach area, whether you're looking for the quintessential couple's getaway, a honeymoon retreat, or a tranquil refuge to relax and recharge. We are very protective of the genuine sense of peace we have so thoughtfully crafted at Manchebo, and we sincerely hope that you wholeheartedly embrace it to the fullest extent during your stay with us.
On that note, if you're new to the Manchebo experience, we extend you a warm welcome—we're sincerely delighted to have you here with us.
As for our esteemed guests who are coming back once again...we welcome you home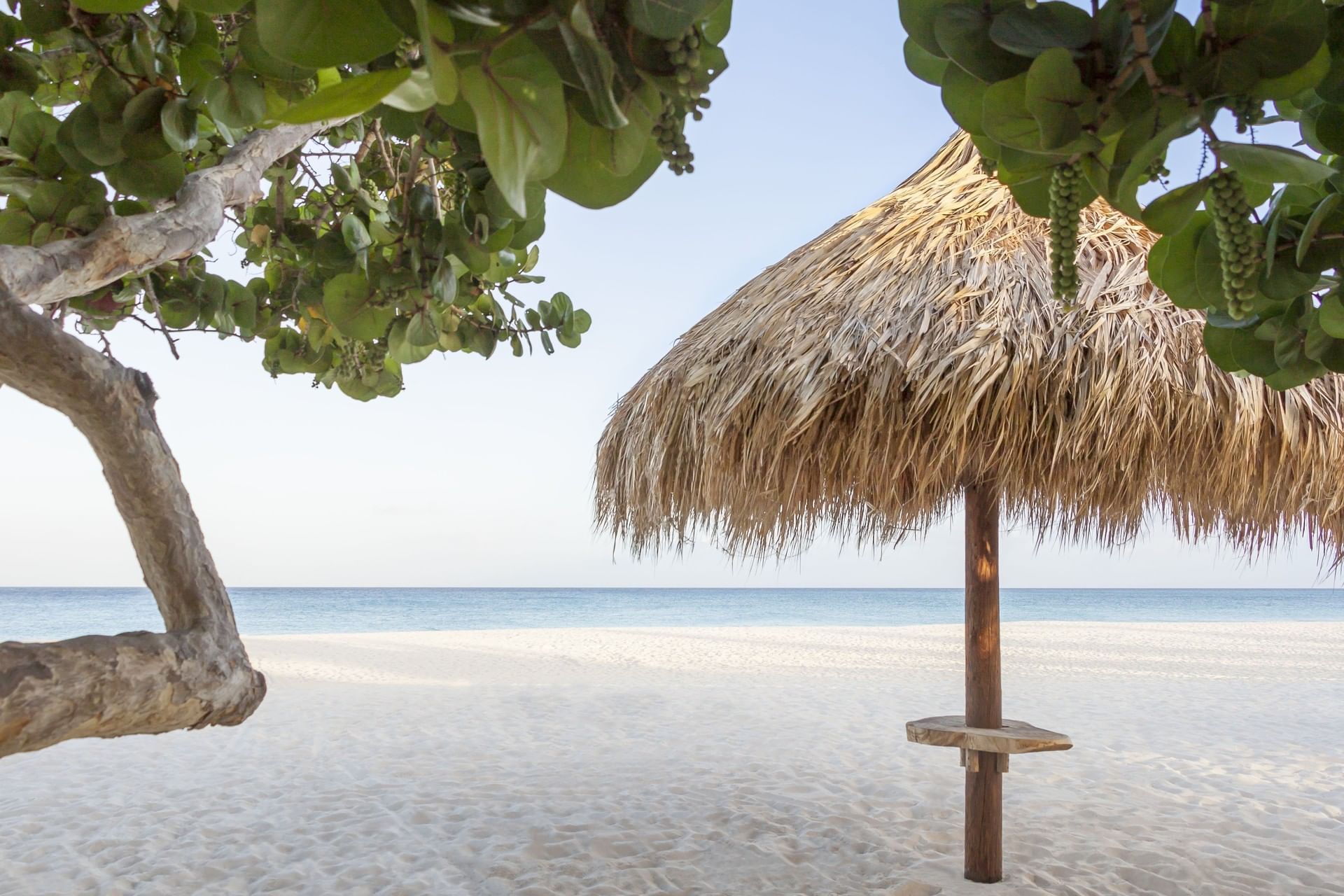 Our Boutique Rooms
With just 72 rooms and suites, our beachfront boutique resort has remained as small and personal as it was originally intended to be. Each room promises a contemporary yet relaxed and comfortable interior with modern amenities complemented by Aruban accents. Inspiring ocean and garden views add the final touch.
Our Award-Winning Beach
Our boutique resort is positioned on the most expansive, coveted stretch of Eagle Beach. With its powdery white sands kissed by the crystal-clear azure waters of the Caribbean Sea, Eagle Beach is the definition of stunning perfection, and the world thinks so too: TripAdvisor's Travelers' Choice Awards 2023 named it the #1 best beach in the Caribbean and the #2 best beach in the world. Find your perfect spot for the day just steps from your room under one of the many well-spaced, hand-thatched palapas set among the majestic palms...you deserve it.
Our Culinary Offerings
Our talented local chefs aim to please every palate and accommodate every dietary restriction, drawing on local ingredients as much as possible–including herbs from Manchebo's own herb garden. Diners especially love our chefs' locally inspired dishes, and vegans appreciate the dedicated plant-based menu designed just for them.
Our Wellness Opportunities
Start your day with a freshly made health-boosting smoothie, followed by an energizing yoga class on Eagle Beach, a restorative treatment at Spa del Sol, and a wholesome vegan dinner. The wellness experiences at Manchebo are endless, so it's easy to craft your own perfect wellness vacation.
Our Promise of Romance
The intimate nature of our boutique resort lends itself to private moments of romance, whether you're celebrating an engagement, wedding, honeymoon, babymoon, anniversary, or simply love. Enjoy hand-in-hand beach strolls, couples massages at our oceanfront spa, and candlelit dinners for two under the stars, or let us curate a romantic escape with one of our romance packages.
Our Sustainability Pledge
The beauty of nature and the friendly island community originally inspired the founding of our boutique resort on the shores of Eagle Beach, so we strongly believe in protecting and supporting them both. We proudly hold the Green Globe Platinum Certification, adopting an ever-increasing number of energy- and water-saving initiatives and community support programs. We also encourage guests to join our pledge to engage in sustainable practices during their stay with us.
Do not even hesitate to book here. 5 star... amazing beach, outstanding service and the food! If you do all inclusive, this is all made to order incredibly fresh food. All meals are terrific, chefs pleasure in watching you eat what they prepare.

If you are a Yogi... there is class every morning... each instructor thoughtful and very experienced!

Now the staff, Ana at Ike's check in is just a love! Made our beach dinner so beautiful. William our server was beyond polite and friendly. Ada for breakfast kept us smiling every morning!!!

Jason at dinner had us laughing while giving us top notch service.

Not to be forgotten are Joshua with Palapa set up and Alejandra with beach service..., spectacular.

If you are looking for a high rise hotel this is not it.... this is a genuine island feel with 5+ star service!!!

On last comment... front desk all smiles all day!

2022-11-30
Paradise with great food!

Friendly staff with wonderful accommodations, each detail for guests were well thought out. Wonderful food too! Situated at the best beach on the island. Loved the reusable ice chest for the beach and the idea of refilling water bottles. Of course the view was outstanding!

2023-02-16
Absolutely the best of the best resort on Aruba!

This is our 4th visit to Manchebo and it just keeps getting better. This year, with all the Covid issues they have gone the extra mile to make it safe. Hand sanitizers? Social distancing, etc. they still manage a very friendly atmosphere front the moment you arrive. The beach is pristine as is the service. Stephany is the premier server in the chop house and at Ike's bistro for dinner. Ana Maria, Diana and Jean for breakfast and lunch at Pega Pega. I would recommend all inclusive. It might seem expensive but you can order anything the regular menu. No buffets. The food is fantastic as well as the drinks. Right now is the best time go. Quiet beaches. Very safe and secure. Very peaceful. A great place to reset your mind and body. Their motto is Welcome Home. They live up to it!

2021-02-21